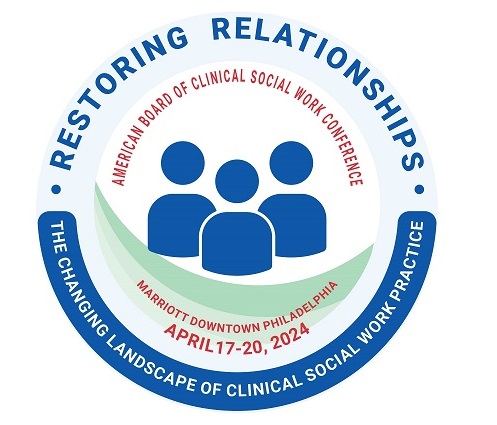 Wednesday, April 17 – Saturday, April 20, 2024
Marriott Downtown Philadelphia – Philadelphia, Pennsylvania, USA 
CALL FOR PRESENTATIONS 
The Conference Committee is announcing the opening of the Call for Presentations for the American Board of Clinical Social Work Conference to be conducted in Philadelphia, Pennsylvania, from April 17 through April 20, 2024.  The theme of the conference is "Restoring Relationships: The Changing Landscape of Clinical Social Work Practice". 
We welcome proposals from all interested professionals, whether they are members of ABCSW or not.  Below is the information you will need in order to submit a proposal for a presentation. 
***Submission Guidelines***
We are seeking presentations that relate to the general theme of the conference in one of the following content areas:
Innovations in clinical practice, i.e. new types of therapies or new methods of service delivery.

The remote delivery of services, i.e. telemental health, online therapies, teleconferencing, etc.

The teaching and supervision of clinical social workers in a post-pandemic world.

 
The conference program will offer three types of presentations:

Individual presentation in a one-and-one-half hour format.

Panel presentation (maximum four panelists) in a one-and-one-half hour format.

Three-hour workshop (limited number)
Presentation proposals should be in the form of an abstract of up to 1,000 words that must include the following elements:
The title of the presentation as you want it to appear in all program materials.

The name(s) and credentials of all presenter(s) as you want them to appear in all program materials.

A description of the content of the presentation, which includes the theoretical/research basis for the work.  [Presentations are not limited to research projects, but the sources of the work must be documented.]

A description of how your presentation relates to the conference theme.

A list of at least three learning objectives for the presentation.

A description of the method of delivery for the presentation, i.e. lecture, small group discussion, experiential, along with information 

about audio/visual aids that you are considering including in your presentation.
In addition to the abstract, submitters will be asked to provide:
A bibliography – can be uploaded

A resume or CV for each presenter – can be uploaded

A choice of one of the three content areas listed above that best fits the presentation.

A choice of one of the three types of presentations (individual, panel, workshop) you propose to deliver.

Clear and complete contact information, including the name of your organization, if applicable, for the contact person.
Much of the information we are requesting as part of your abstract is required in order to grant CEU's for your presentation. 
***Submission Process***
Proposals for presentations must be submitted to the Conference Committee online.  The submission site can be accessed at https://talley.eventsair.com/abcsw-annual-conference/abcsw24callforpres
Submitters will be asked to create an account and then follow the prompts regarding the information required to submit a proposal.  The submission software will also ask for identifying information and biographical information about all professionals who will be part of the proposed presentation.  However, we use a blind review process to eliminate personal bias, so reviewers will not have names connected with proposals. 
It is our desire to have as many presentations as possible videotaped for inclusion on our Distance Learning Portal after the conference.  However, submitters who do not wish to give ABCSW permission to capture their presentations by videotape or audiotape will be given an opportunity to make this choice during the submission process.  Refusing permission for taping will in no way change their chances of being chosen as a presenter.  If a submitter does grant permission for taping, care should be taken that all confidential material is sufficiently disguised to ensure lack of recognition of case reports.  
The deadline for receipt of presentation proposals is August 1, 2023.  Presenters will be notified of the Conference Committee's decision by October 20, 2023. 
Should your proposal be accepted, you will be expected to register for the conference.  In addition, if your presentation includes a PowerPoint, video, or some other digital delivery, you will need to upload it 2 months before the conference to a site that will be specified in your acceptance letter.